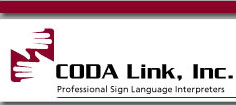 Our Mission...

What makes us excel in what we do! MISSION STATEMENT
CODA Link, Inc. is a professional Sign Language Interpreting company that is committed to serving the deaf and hard-of-hearing community. Our mission is to promote equal access to communication by providing the highest quality of interpreters throughout South Florida and nationwide.
A Sign For A Better Future
Focused on improving the future for deaf and hard-of-hearing people, CODA Link, Inc. offers its customers a wide array of interpreting and training services that guarantee the successful development and completion of any present or future projects.
In today's competitive world and the state of the economy, we understand more than ever the critical need to be efficient with resources and to be the most cost effective. CODA Link is extremely innovative and conscientious, always striving to be the best. One of our core values is to get it right the first time, always keeping the customer's bottom line in mind. We are "out-of-the-box" thinkers and have solutions for any challenges that may come our way.
There are two major components which set us apart from any other sign language interpreting agency. First is Donna's willingness to impart her knowledge of deaf culture and share her experiences of being raised in a community of several deaf members with her non-CODA interpreters. All of the interpreters, therefore, understand deaf culture and passionately share in her vision of
building a business based on the idea that deaf people
need a voice. Second is our rapport with the South
Florida deaf community. Due to our involvement of over 12 years, we have achieved a familiarity of every aspect of their lives, gaining their trust and respect.
CODA Link, Inc. strives to improve relationships between two worlds... the deaf community and the hearing community. As advocates for our clients, we are dedicated to promoting community awareness. In an effort to bridge the gap, we train and educate the hearing community through our workshops which offer sensitivity, diversity and deaf culture awareness. Our staff of qualified professionals and CODA Link, Inc. believes that through these efforts, we can remove all communication barriers.
CODA Link, Inc. provides services to an array of businesses and corporations including the medical, legal and educational arena.
Promote
Equal
Access
We are dedicated to continuing our efforts to provide Deaf culture as well as ADA compliance training.